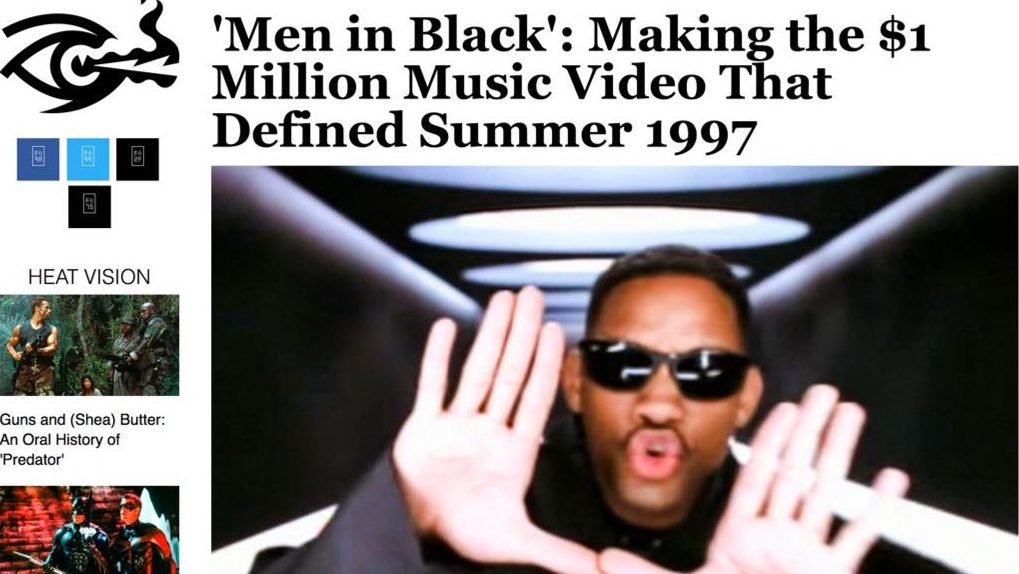 07 Jul

Robert Caruso revisits Men In Black Music Video

Caruso Company Director and Executive Producer Robert Caruso revisits the success of his work on Will Smith's Men In Black Music Video in a recent interview with The Hollywood Reporter.

Twenty years ago Caruso had just been signed by George Lucas' Industrial Light & Magic Commercial Productions (ILMCP) division when he was asked to helm the project as part of a massive marketing push for Barry Sonnenfeld's motion picture. The video that featured Smith, a dancing alien and a cast of L.A. based dancers, went on to win multiple awards including an MTV award for "Best Video From A Film" and is often listed among the top 100 music videos of all time. Smith won a Grammy for the song, and Men in Black: The Album would go triple platinum. Men in Black, the movie finished its box-office run with a massive $589.3 million worldwide (roughly $888 million in today's dollars).

As part of the 20th anniversary of the release of the motion picture Men In Black, Hollywood Reporter Aaron Couch interviews Robert Caruso about the project and working with rapper and movie star Will Smith. Here are some outtakes from that interview:

HR: how'd this project get on your radar?
RC: I had just been signed by ILM as a commercial director and they were doing the visual fx on Barry Sonnenfeld's movie. Because of the CG dancing alien and the overall look and feel of the film and its fx (creatures, egg monitor etc.) it was a natural fit for ILM to produce the music video. My background was doing music videos; but mostly lower budget projects. So having me direct MIB was a huge leap of faith by Will Smith and Columbia Records. But they were all super supportive, especially VP of video at Columbia Records, JoAnne Gardner.

HR: It's a simple idea, but one of the most memorable movie-to-music-videos ever. What were some of those early conversations like, as you were figuring out what the narrative of this thing was?
RC:  It was very organic. I had great meetings with Will, also met with Barry Sonnenfeld early on, studied the film in detail, and then sat down with a bunch of notes to bang it out. I also worked with some tremendous art directors at ILM who helped me storyboard the piece. Another amazing collaborator was production designer Peter Hampton who helped shape a lot of the spaces with me. Of course the movie inspired all of it. My intention was to create a darker, more underground version of the MiB crew that had been portrayed in the movie, present a kind of behind the scenes version of the MIB world created by Sonnenfled and production designer Bo Welch. This darker tone would then be up-ended by the surprise appearance of the dancing alien – which was just insanely fun and unexpected.

HR: Did Tommy Lee Jones actually shoot for you, or was his introduction part something already shot for the movie?
RC: I did not work with Tommy Lee Jones. I believe that opener was done by Imaginary Forces in Los Angeles as a promo piece. But it was a great idea to tag that onto the opening of the video. It really works well to "kick" things off.

HR: Will Smith, by this point, was on his way to being the biggest movie star in the year with the one-two punch of Independence Day and MIB. At the time, did you have the sense that you were working with someone on that trajectory?
RC: It's tough to see that kind of thing coming. The film and our video made such a big splash and really did propel Will into the stratosphere. It was one of those rare synchronicity moments where everything gels and it resonates with the audiences in a big way.

HR: The CGI alien was really interesting at the time. Was that much of a pain to get right?
RC: The model for the 3D Mickey creature already existed from the film. That was a huge help, in fact, not sure it could have been completed on that schedule had that not been in place. But it still took a tremendous amount of labor and time to animate. But we had an amazing team. The incredible thing about being at ILM was the level of skill and having access to amazing talent, many of whom were making the famous blockbuster movies of the time. For example I was able to consult with visual fx supervisor Eric Brevig and animation supervisor Rob Coleman both of whom had who had been on the film.

HR: What was your budget/shooting time constraints like?
RC: The budget was healthy, I think close to a $1m. Schedule was very compressed. I believe we shot for 4 days and the edit and fx took another 3 weeks. But that was with a large team.